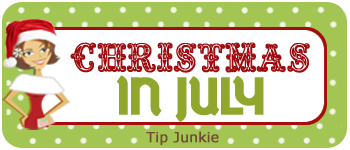 Have you checked out Christmas in July over at TipJunkie? If not, you are missing out. Laurie's blog is awesome and has been one of my favorites for years. She has put together quite the party. Not that I'm surprised, she's always showing off like that.
Not only is she doing  fabulous giveaways every single day, but she's also sharing tutorials, projects, and ideas from all over blogland. She's even featured my  Christmas Stocking Advent Calendar, and my Candle Block Gift Idea. I've already added several other projects to my "to do" list.  I'm going to get ready for Christmas early this year. Really, I am. I think.
So head on over there and check it out. I'm not going to twist your arm to enter the giveaways though, cuz I'm selfish and I'm hoping that I win. But whatever.