Learn how to whip up a loaf of homemade Italian Bread with just a few simple ingredients. It's easier than you think, and it makes a perfect side dish to all of your favorite meals!
My husband and I actually traveled to Italy with his family in 2019, and one of my favorite things about the trip was all of the incredible food! Every restaurant and bakery we went to served a different type of bread, usually with a plate of olive oil and vinegar. Delicious!
I learned that bread type varies by region, (as does the pizza), and every city is very proud of the version that they serve. We actually went to one restaurant that served a very plain bread with a plate of oil and salt shakers.
I asked the waiter, and he said the tradition there is to make unsalted bread, and have people add salt as they eat it. All 20+ of us voted that bread the least yummy. I've said this before, but I'll say it again – if you add salt while you are cooking it adds flavor, but if you add it after it just adds saltiness. Not quite the same!
The recipe I'm sharing today is very much like several of the loaves I had in Italy. But the best part? Since you make it yourself, you get to control how dark the crust turns out, and you get to eat it warm from the oven. 🙂
And now for a tricky question that you might be wondering:
WHAT IS THE DIFFERENCE BETWEEN FRENCH AND ITALIAN BREAD?
Here in the good ole' USA, the terms are used interchangeably, so it can be confusing. Both are white breads, both are simple, and both are delicious!
One basic difference is that traditional French bread (like a baguette), does not contain any fat, and oftentimes doesn't contain sugar. Italian bread on the other hand, almost always has vegetable or olive oil in the list of ingredients.
Another difference, though subtle, is the shape. French baguette loaves are long and skinny (the name baguette actually means staff or stick). Italian loaves are usually more round or oval.
But it can be tricky, because, different types of breads in both countries are prepared different ways, so the end products may look very similar. Don't worry, no matter which kind you serve or how it looks, people will be asking for seconds!
If you are afraid of making bread at home, you shouldn't be! This recipe is a great one to start with because it has just six ingredients. Plus, you don't even need to pull out a mixer; all you need is a large mixing bowl.
(To skip my tips and tricks and just get to the detailed recipe card, simply scroll to the bottom of the post.)
How do you make Italian bread from scratch?
Ingredients needed:
warm water (It should be about 110°.)
instant yeast (I use SAF yeast.)
granulated sugar (Gives the bread flavor, but also feeds the yeast, helping the bread rise.)
vegetable oil (or olive oil, or another oil that is liquid at room temperature)
salt (adds flavor, and prevents dough from rising too much)
all purpose flour
In a large bowl, whisk together the warm water, yeast, sugar, oil, and about 2 cups of the flour till smooth. Let the mixture sit at room temperature till nice and bubbly, about 30 minutes.
Add the salt and stir in enough flour to make a soft dough. Knead a few times on a floured counter till dough is smooth.
Place the dough ball back in the bowl. Cover and let raise in a warm place till at least doubled.

Cut dough into two pieces on a counter that has been sprayed with non stick spray. Form each piece of dough into a loaf about 12 inches long. Place on a baking pan that has been sprayed with non stick spray.
Let loaves raise till doubled. Make a few diagonal slices across the top. Bake at 375 degrees for about 30 minutes. That's it!
My family likes a softer crust, so I like to brush butter on the loaves when they come out of the oven. If you like a crisper crust on your bread, you can skip that step.
Nothing beats a soft and crusty bread warm from the oven! This Italian bread loaf is perfect on its own, especially slathered with some butter. And of course you can dip it in some olive oil and balsamic vinegar.
HOW TO STORE LEFTOVER BREAD
This bread is definitely best fresh, but will last for about 2-3 days at room temperature if stored in an airtight container. The crust will soften up as it sits in the bag or container.
It can also be frozen, but it does lose some of the great texture. If you want to freeze it, wrap it tightly in two layers of plastic wrap or aluminum foil. It will last for about 3 months in the freezer.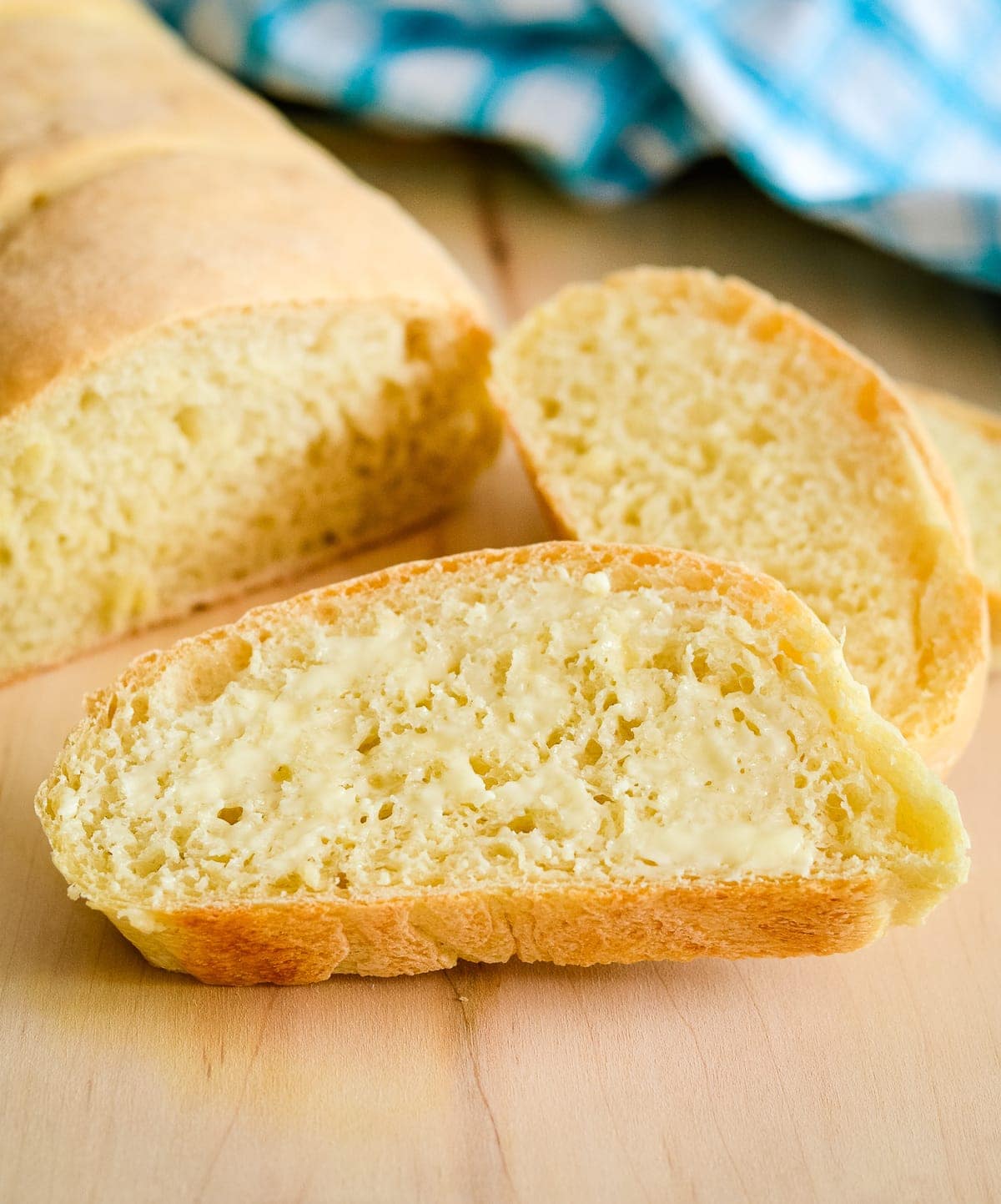 We love serving it with spaghetti and other Italian dishes because it is perfect for soaking up all that tasty sauce. It it also makes fantastic garlic bread, or you can let it sit for a couple of days and then use it to make French toast. Such a versatile bread recipe.
WHAT TO SERVE WITH RUSTIC ITALIAN BREAD:
EASY HOMEMADE ITALIAN BREAD RECIPE
Yield: 2 loaves
Italian White Bread
Tasty rustic white loaf with a crunchy crust and moist, soft interior.
Additional Time
1 hour
30 minutes
Total Time
2 hours
15 minutes
Ingredients
2 cups very warm water
5 tsp instant yeast
1 Tbsp sugar
2 Tbsp vegetable oil
1 Tbsp salt
5 cups all purpose flour
Instructions
Whisk together water, yeast, sugar, oil, and 2 cups of the flour in a large bowl till smooth. Let sit in a warm place till bubbly, about 30 minutes. Add the salt and stir in enough flour to make a soft dough. (I like to use a bamboo spatula to stir all my dough.)
Knead a few times on a floured counter till smooth. Return to bowl. Cover and let rise till doubled, about an hour.
Divide dough in half and roll each piece into a long loaf about 12 inches long. Place both loaves on a greased baking pan.
Let loaves rise till doubled, 30-45 minutes. Cut a few diagonal slits across the top of each loaf.
Bake in an oven preheated to 375° for about 30 minutes or till crust is golden brown.
Recommended Products
As an Amazon Associate and member of other affiliate programs, I earn a small amount from your purchase, no cost to you.
Nutrition Information:
Yield:
12 servings
Serving Size:
1
Amount Per Serving:
Calories:

219
Total Fat:

3g
Saturated Fat:

0g
Trans Fat:

0g
Unsaturated Fat:

2g
Cholesterol:

0mg
Sodium:

585mg
Carbohydrates:

41g
Net Carbohydrates:

0g
Fiber:

2g
Sugar:

1g
Sugar Alcohols:

0g
Protein:

6g
There you have it – now you know how to make Italian bread. Whip up a batch and impress your family and friends!